pKaView
TM
Database of Over 1000 pKa Values
---
pKaView is designed to be a convenient user interface for viewing the pKa values of over 1000 compounds. The database contains the names of the compounds in addition to the chemical structure ("Compound Structure"). Also included is the chemical structures of the conjugate acids and bases that represent the most highly protonated species ("Conjugate Acid") and the most unprotonated species ("Conjugate Base") of a series.
There is also a searching function that allows you to search the chemical names to create a list ("Find List") of compounds to browse.
It is also possible to add your own materials and their pKa values and the three chemical structures that are typical for each entry. Below is a screen shot of the program.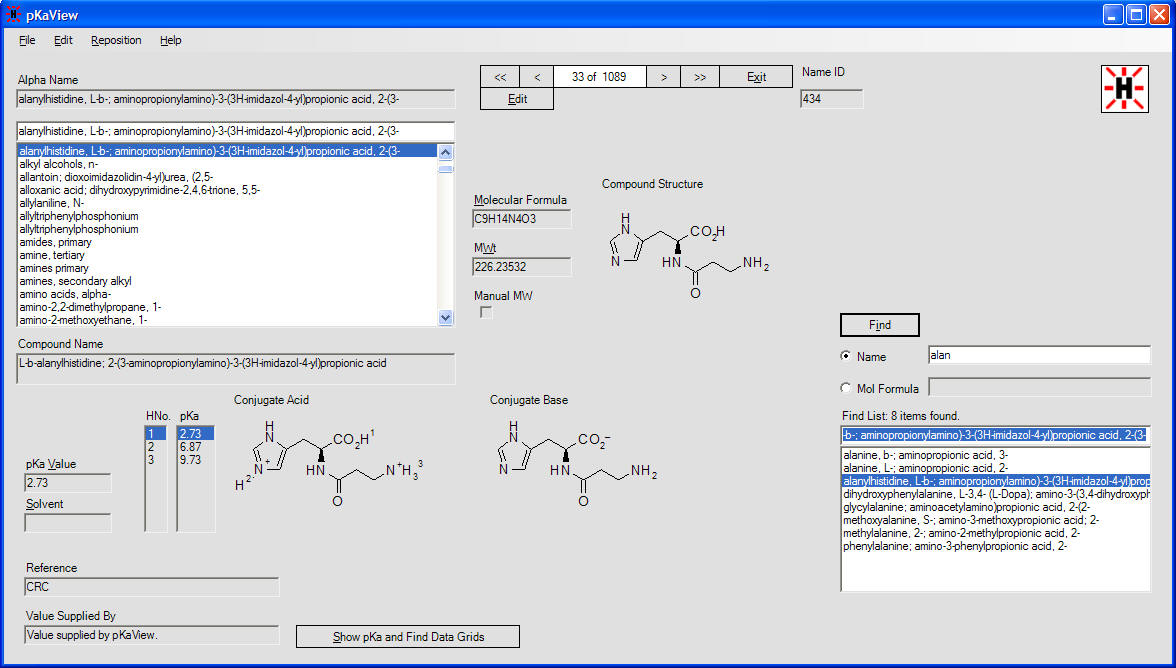 ---
Download pKaView
You can install a fully functional version of pKaView that will be active for 60 days. At that point you can purchase a registration number online and permanently activate the installed version. There is no need to reinstall the software.
Download the pKaView setup file:
Click Here to Begin the Download
Some computers will need to install prerequesites. Download and install prerequisites from this page.
If you are using Windows 7 as your operating system, please read the following:
If you are running Windows 7, make sure you run pKaView as Administrator. To do this, right click the pKaView icon that you use to start the program. Click "Run as admnistrator." Do this the first time you run pKaView. After that it should run as administrator by just double clicking the icon. To check and see if the icon will startup pKaView as Administrator, right click on the icon and click the Properties menu item and then the Compatibility tab and at the bottom make sure the "Run this program as administrator" check box is checked. If not, click it and click OK. You need to do this with every pKaView icon you run pKaView from so that in all cases you pKaView run as administrator.

Back to Top
---